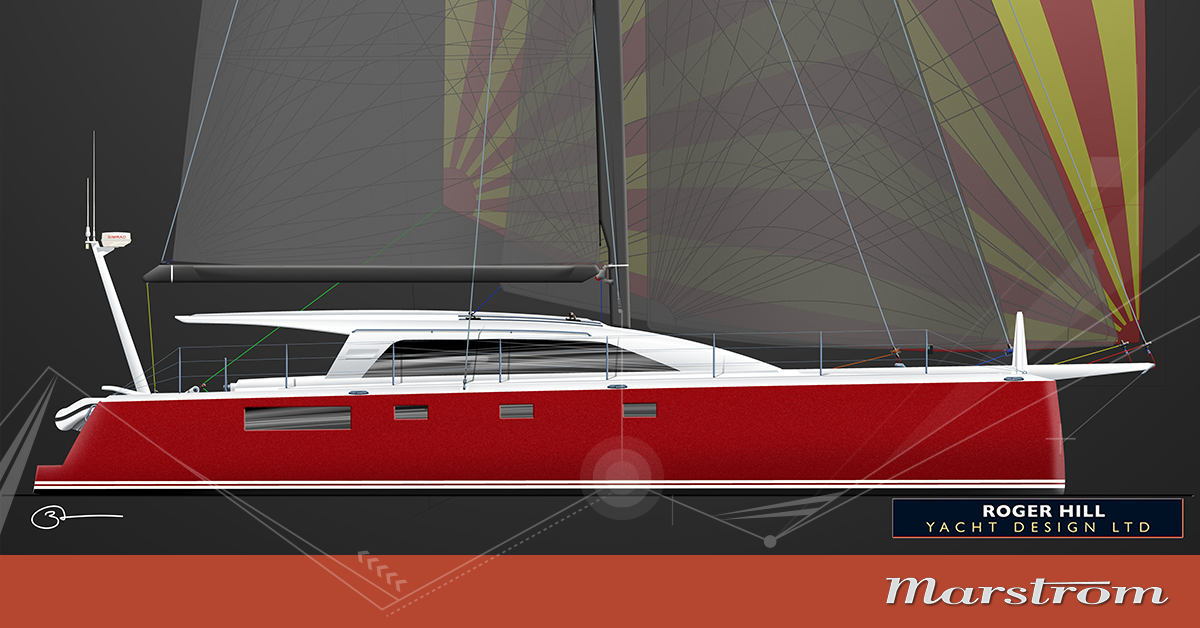 Marstrom is happy to announce the order for the spars and rigging for the Roger Hill designed 57 Cat to be built at Knierim Yachtbau launching in the summer of 2022. Weight will be moderated by the use if high modolous fibre in the spar which will be supported by high EA Carbolink side rigging and carbon furling headstays. Designers notes:
17.5m HIGH PEROFRMANCE SAILING CAT – DESIGN NOTES
BEAM 8.42m
DRAFT 2.59m
DISPLACEMENT 13,200 Kgs (Loaded)
WATER 700 L
FUEL 620 L
MAINSAIL 127 Sq m
SELF TACKING JIB 65 Sq m
This sailing cat is a development of the slightly larger 18.5m design 'Cat+Ion'. Commissioned by a German couple who are very experienced cruising and racing sailors. It is being built in Germany at the Knierim yard on the Kiel Canal out of in-house preg carbon fibre with foam cores and honeycomb cores in certain areas).

The design is slightly 'de-tuned' in some areas compared to its larger sisters. The centre boards will be straight symmetric sections compared to the asymmetric curved boards on the other bigger cats and the rudders will not be retractable or fitted with a T foil. The rig will be rotating and the mainsail reefing will be a conventional slab system compared to the boom furlers on the other cats. The change to the boards will make the boat a bit easier to sail when short handed and as the rudders are the deepest part of the boat and vulnerable to occasional grounding in shallow water not having the foil will avoid damage or breaking them off if they hit the bottom.

The interior layout is specific to the clients brief with the focus on a spacious owner's area in the stbd hull and comfortable guest accommodation on the port side with a small twin berth crew cabin fwd. The boat will be fully equipped for live aboard cruising with all the required fittings and features, laundry, air conditioning, water making, pop up large TV, etc.

The sail plan is extensive. Designed to cover all the options required to sail the boat to optimal performance when cruising or racing.
Motive power is provided by 2 Yanmar 75hp sail drive units.